JOIN US FOR
EASTER AT EASTSIDE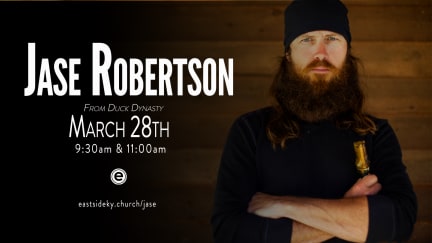 Jase Robertson - March 28, 2021
____________________________________________________
Star of A&E's Duck Dynasty
Jase travels with his wife, Missy, to various hunting expeditions and speaking engagements all across the country. He is a very talented and entertaining speaker who touches the lives of many through his stories of hunting experiences, knowledge of ducks, and witty anecdotes about life – along with the hope he has found through his Savior, Jesus Christ.
9:30am | 11:00am
No Registration Needed
Stations of the Cross -

 March 28-31, 2021
____________________________________________________
Experience this self-guided tour that will engage your senses and heart through a series of significant moments through the last hours of Jesus' life. For these three days, our campus will be transformed into eight stations that fully immerse an individual or small group into the passion narrative. At the first station you will receive a map with instructions to guide you through the experience. Start your journey through the eyes of those at The Last Supper, pause at the garden of Gethsemane, witness the betrayal of Judas and participate in reliving the last days of Jesus all the way to the death, burial and forgiveness.
5:00pm - 8:00pm
No Registration Needed
Good Friday - A
pril 2, 2021
____________________________________________________
Experience the Good Friday "Tenebrae" service where you will be immersed in a traditional service with a modern twist. The word tenebrae means shadows. You and your friends and family will sit in the shadows of the flickering candlelight and experience the sights, sounds, spoken word pieces and media presentations that make the final week of Jesus truly come to life.
7:00pm
No Registration Needed
April 4. 2021
Easter Sunday
At our Easter Services, you will discover that Friday's tragedy has become Sunday's triumph. An Angel comes like lightning to roll back the stone of the tomb. Darkness is overcome by light. Death overcome by life. He is risen. He is risen indeed. These Easter services will celebrate the light and life that comes through the resurrection of Jesus.
Sunday, April 4 at 9:30am and 11:00am