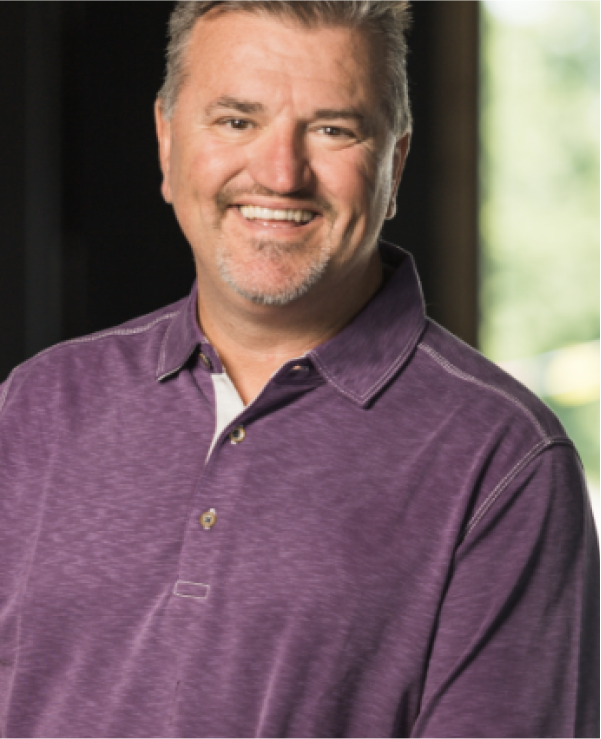 Virgil Grant is currently Senior Pastor at Eastside Community Church in Richmond, Kentucky. Over the last five years, Eastside has grown from weekly attendance of 250 to a current attendance of over 900. In addition to leading the staff at Eastside, Virgil serves as a mentor coach for the Relational Discipleship Network in Post Falls, Idaho where he works with churches who are making the shift to disciple-making churches.
Virgil's journey from a broken, self-dependent, highly dysfunctional leader, pastor, husband, and father to a growing, functional leader uniquely positions him to walk this journey with other leaders and organizations who desire clarity and breakthrough both personally and organizationally. Virgil is passionate about guiding individuals and organizations through the StratOp and LifePlan processes as they played a huge part in his journey toward becoming a healthy leader. He practices and lives by the phrase commonly quoted by JFK, "A rising tide lifts all boats."
Virgil holds a Master's degree of Divinity and a Doctorate in Ministry and Pastoral Care.
Virgil has been married to his wife, Rosemary, for 30 years. They have two children, Rachel and Jacob, as well as a daughter-in-law, Faith.
Todd is married to Linda, and they have two sons, Kyle and Hunter. Todd is a native of Lancaster, KY, where he graduated from Garrard Co. High School. He then attended EKU, where he earned an AS Degree in Drafting & Design. Todd worked for an engineering firm in Lexington, where he met his bride, Linda. In 1991, Todd started working for Valvoline, where he enjoyed a terrific career for 23 years.
In 1992, Todd and Linda were married, and he received the blessing of bringing Linda's 4 year old son, Kyle into their family. Two years later, Linda gave birth to their son, Hunter. Hunter attended Eastside throughout his childhood and is soon to take over the management of their family-owned shoe store of 38 years in Lancaster, KY.
Todd grew up in a wonderful close-knit family, but wasn't raised up in the church. It was Linda who encouraged him to begin attending church regularly, and he later accepted Christ at Southland Christian Church, following a tragic illness with Kyle. At the age of 10, shortly after moving to Richmond, Kyle experienced a tragic brain illness, which left him in an induced coma for 6 weeks, followed by rehab for 12 weeks where he had to relearn to walk, read, write and all other functions. It was during this trying time that the Mason's experienced God like never before.
In the early 90's, after moving to Richmond, Todd & Linda met Virgil, who extended an invitation for them to try Eastside. When they came, they knew immediately that Eastside was their home, and they have been active members for over 20 years, serving in various roles over the years.
Todd is the husband of Emily and the father of Aidan (15) and Keenan (12). Emily and Todd met in Tennessee while attending Milligan College, and have been married for 19 years. Emily is a retired teacher and stay-at-home mom. When she isn't busy running their two boys around town, she's busy taming their two Labrador retrievers, Trooper and Trapper.
Todd & Emily have always been engaged in the church – as children, college students, and adults. Emily grew up in Lexington and Todd grew up in Jackson, TN. Both of them were raised in Christian homes where faith and church community were foundational.
After a short stint in Tennessee, they moved to Kentucky in 2006 and began attending a small church in Athens. However, they struggled to find community, so they began looking for a church in Richmond. They found Eastside Community Church in 2009. Todd joined the worship team and their family joined a Life Group. They quickly found the community that they so desperately needed. They remained active in that same Life Group for nearly 9 years before accepting the call to branch out and become Life Group leaders themselves.
Shortly after starting their own Life Group, Emily suffered fulminant liver failure resulting from autoimmune hepatitis and needed an emergency liver transplant. The Eastside community quickly gathered around their family. Their previous Life Group and their fledgling Life Group, as well as the larger ECC church family, rallied to provide spiritual, emotional, and physical support. Both the transplant and the response from the church and their Life Groups have proven to be formative events for their family – they rely on community and know that God designed us to live our lives with other people. They love Eastside and are thankful to have found such a wonderful home!
Todd earned a Bachelor of Science degree and a Master of Education degree from Milligan College. In 2016, he earned a PhD in Interdisciplinary Education Sciences from the University of Kentucky. He has spent the bulk of his career in education and he currently works for the National Center on Education and the Economy (NCEE). Todd does leadership training and consulting for education agencies across the country.
Drew is married to Julie and they have 3 sons, Austin, Blake and Jake. They also have one granddaughter, Reese. Drew was born and raised in Cynthiana, Ky. He is the youngest of 5 boys. Drew graduated Harrison County High School and then later received his BS in Social Studies at Morehead State University. He then later received his Masters in School Administration and Rank I for Morehead State. While attending Morehead Drew met his wife Julie. Drew has worked in public education for 24 years and was a high school principal for 15.5 years. Drew is currently employed by Madison County Schools where he serves as Director of District Wide Services.
Drew married Julie in 1993 and both serve in public education. Both Drew and Julie grew up in families that attended church. In 2013 Drew and Julie moved to Richmond. Upon moving to Richmond they started attending Eastside Community Church. Drew and Julie joined Rose and Virgil Grant's Life Group and then branched the group in 2015 to lead a couples group. Currently Drew is leading a mens' group.
Drew and Julie love Eastside and are looking forward to what God is going to do through this community of believers.
John is married to Kathy and they have three children. John was born in Mt.Sterling and attended Montgomery County High School. After high school he enrolled at LEI in Lexington and studied electronics. John joined 84 Lumber Company in April of 1995 and he was asked to become the General Manager of the Richmond location in February 1997. John still holds that position today.
John grew up in church, where his family was very involved his whole childhood. John's mother typed the bulletin every Sunday, sang in the choir and taught Sunday School. John's father was involved in the men's bible study and helped on several building projects through the church. This led to John accepting Christ at a tent revival and baptism in a concrete baptistry.
John meet Kathy in 1994 and they started attending church with John's grandfather at the Hope Church of God where they married in December of 1995. John and Kathy had complications with pregnancy so God lead them to adopt three children that were born in Guatemala. Jordan currently 23 years of age, Madison currently 20 years of age, and Jayden currently 16 years of age. God was truly involved through this whole process.
John has been involved at Eastside since 2006 and Eastside has become home for John and his family. The Congleton family look forward to many more years of growth at Eastside and for the Kingdom of God.